Daypacks are versatile, perfect for short trips, hikes, school, or touring a foreign city. If you want the best, The North Face Recon vs Borealis vs Jester backpack are a few of the best daypacks made by TNF.
Though they're smaller than hiking or trekking backpacks, a daypack can still hold everything you need for a day away from home.
They have room for a change of clothing and some snacks and drinks. Many of them even have space for your larger devices, like tablets and laptops.
If you need the best daypack around, check out The North Face Recon vs Borealis vs Jester backpack comparison reviews below to help you make your choice.
The North Face Recon vs Borealis vs Jester
We love earning cashback on Amazon and other purchases. You can too! See our favorite Cash Back Credit Card!
What to Look for in the Best Daypack from The North Face?
When you are looking for the best North Face daypack, you want features you'd find on other backpacks, only on a smaller scale.
Of course, you can cancel out the sleeping bag compartments and loops for climbing gear. But you still need a decent main compartment, durable materials and straps, and a great suspension.
[elementor-template id="1226464"]
But you also want a small, lightweight bag since it is only meant to hold the supplies you need for a day's outing.
The North Face daypacks we are reviewing here meet all the criteria for a great daypack in every category.
Daypack Comparison: The North Face Recon vs Borealis vs Jester Backpack
Size
One of the first things to look at when comparing daypacks is the size.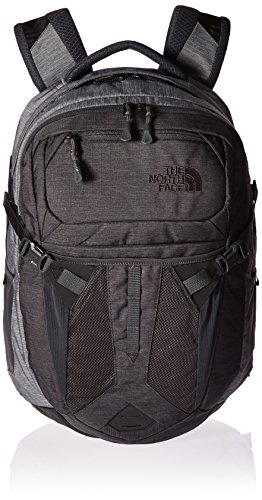 You want it to be small but still large enough to hold everything you need.
When you compare The North Face Recon vs Borealis backpack models, the Recon is 19.25 x 14 x 9.5 inches and has a 31-liter capacity, while the Borealis is 19.75 x 13.5 x 8.5 inches and holds only 28 liters.
The North Face Jester dimensions are 19.75 x 13.25 x 7.5 inches, so is smaller than the other two in width and depth. It also only has a 26-liter capacity, so holds less. This doesn't make it the least useful, though.
The choice for the right daypack for you depends on just how much you need to carry.
Weight
You want a lightweight daypack to keep your trip easy and comfortable.
Though it has the largest capacity, at 2 lbs 10.68 oz the Recon is not the heaviest bag of the three.
The North Face Borealis daypack weighs the most at 2 lbs 12.45 oz.
This doesn't seem like much until you compare the North Face Borealis vs Jester backpacks since the latter model weighs less than an ounce over 2 lbs.
If weight alone is the deciding factor for you, the Jester is the best model of the three.
Materials & Durability
When you look at The North Face Recon vs Borealis backpack models, you'll notice the materials used are identical.
These two daypacks use a combination of 210D Cordura nylon mini ripstop, 420D nylon, 600D polyester, and 1680D Ballistic nylon.
Together these fabrics are tough enough to withstand tears and abrasions while looking great at the same time.
When you compare the Recon vs Jester daypacks, the Jester lacks the nylon fabric, replacing it with a combination of 600D polyester, 450D x 300D heather polyester, and 1200D polyester.
Though these types of fabric aren't quite as durable, the Jester will dry faster if wet and retain its color better when under the hot sun, even if you use it every day.
Storage & Organization
The Recon has a large main compartment found on all backpacks, but this daypack has a padded, fleece-lined sleeve for a laptop inside as well.
It also has a front compartment with a padded, fleece-lined tablet sleeve, plus other zippered and slip pockets for pens, phones, and any other accessories or small items you need.
There is also a front stash pocket, an external fleece-lined pocket, and two water bottle pockets.
The Borealis is identical in storage compartments, pockets, and sleeves. But when you compare the North Face Recon vs Jester daypacks, you'll notice the Jester lacks in a few of these areas. It has a laptop sleeve, though it is a floating one instead of a fleece-lined sleeve.
There is also the front compartment with the padded tablet area, plus a few slip and mesh pockets inside, and the two external water bottle pockets.
But it lacks the front stash pocket and the external fleece-lined pocket, giving you less room for smaller items.
Suspension
You won't find any difference between The North Face Recon vs Borealis vs Jester backpack models when checking out the suspension.
All three of them use the FlexVent suspension system. This suspension uses The North Face's custom injection-molded shoulder straps for extra comfort.
The backpanel is padded mesh, with a spine channel that gives you extra support for less back pain. This material of this panel is also ventilated to reduce sweating.
The only difference is that the Jester shoulder straps are compression-molded instead of injection-molded. But they still offer great comfort and padding for those days on the trail with a full pack.
Straps & Handles
As well as the padded backpack straps, the Recon has a removable waist belt and a sternum strap to keep your back tight and secure on your back, with little shifting during your walk.
There is also a padded top haul handle for an extra carry option
The Borealis has the exact same straps and handles as the Recon.
But when you compare The North Face Borealis vs Jester models, you'll see that the Jester lacks the removable waist strap, though it still has the sternum strap and padded haul handle.
Colors
If stylish colors are your thing, you can get a cheap North Face backpack to meet your personal style.
The Recon for men comes in 8 colors, while the women's model has 11 to choose from.
There is even a Youth Recon Squash backpack for the little ones, with 6 colors to meet the tastes of both boys and girls.
The men's Borealis North Face backpack has a few more than the Recon with 11 colors to pick from. There women's Borealis backpack has even more to offer with 15 different colors available.
The Jester North Face backpack for men only has 2 colors, which may not suit some people.
The women's model has a few more at 7 colors, but still offers fewer than the other daypacks on our list.
Extra Features
The best North Face Backpack for the money will still have a few decent features to make it worthwhile to buy.
When you compare The North Face Recon vs Borealis vs Jester backpack models, you'll notice some similarities in these extras.
All three daypacks have a whistle buckle on the sternum strap for emergencies, a 360-degree reflective bike light loop, webbing on the shoulder straps, and water bottle tabs.
The Recon and the Borealis have external compression straps as well. But the Recon lacks the outer bungee cords on the front found on both the Borealis and the Jester daypacks.
Women's Daypacks
The best women's North Face Backpack will be made to fit a women's body. There are women's versions in all three of the daypacks compared here today.
The women's Recon North Face backpack uses a similar suspension as on the men's model, but with a women-specific design. It also has shoulder straps that are contoured for a women's slimmer frame and weighs a bit less.
The Women's North Face Borealis daypack also has a suspension and straps designed for a smaller body.
But this one has a 25 liter capacity instead of the 28 liters found in the men's bag. The ladies Borealis is also lighter, with smaller dimensions.
The women's Jester backpack uses the same women's suspension and straps as the other two women's models. It is also a bit lighter, with smaller dimensions than the men's backpack.
What's The North Face Backpack Warranty?
The North Face has a Limited Lifetime Warranty. This covers all their products, including daypacks, against defects in either the materials or the workmanship for the product's lifetime.
If a product fails for either of these reasons at any time, The North Face will repair it or replace it if repairs are not possible.
Here is The North Face Backpack Warranty directly from the website:
"The North Face® products are fully warranted to the original owner against defects in materials and workmanship for the lifetime of the product. If a product ever fails due to a manufacturing defect, even after extended use, we will repair the product, without charge, or replace it, at our discretion. This warranty does not cover damage caused by accident, improper care, negligence, normal wear and tear, or the natural breakdown of colors and materials over extended time and use. Damage not covered under warranty will be repaired for a reasonable rate and a fee will be charged for return shipping."
This warranty does not cover any damage caused by improper use or care, negligence, accidents, or normal wear and tear.
Things to Consider When Choosing the Right Daypack
How Will You Use Your Daypack?
Because of their small size, daypacks aren't great for trips that last more than a day, or those that require a great deal of gear.
What a daypack is good for are the shorter hikes that last a few hours. This is because these types of trips only require some snacks, water, and maybe a change of clothing if the conditions are damp or messy.
But daypacks are also handy for your day-to-day activities. Many of them have sleeves designed for your laptops and tablets, plus space for phones, notebooks, and even pens. This makes them a great choice for school or work.
They can also make a decent travel backpack for car or plane trips, provided these trips require only minimal gear, or the daypack isn't your only piece of luggage.
Size & Weight
Daypacks can range in capacity from 5 liters up to 40 liters. The more space inside, the bigger the daypack is going to be.
You may not need the largest daypack around, but the little ones don't have much room for more than a few snacks and drinks.
If you need to carry a change of clothing as well, or a few other larger items like laptops or tablets, a daypack of about 25 liters is probably your best bet for a variety of uses.
As for weight, lighter is always better, especially when you're filling your daypack with gear for your trip. But lighter may also mean fewer features, so be careful what you're sacrificing in order to lighten up your load.
Materials & Durability
Wanting a cheap North Face backpack doesn't have to mean you need to sacrifice on quality. Even budget models need to be made of stronger materials, or they won't last longer than a few trips.
Most daypacks are made of nylon, which may have varying degrees of denier. The higher the denier is, the stronger and more durable the fabric will be. Some models use polyester instead, but the same rules apply in terms of denier.
You also want to look at the zippers and seams. The zippers should be high quality to keep them from breaking or snagging when you use them. The seams need to be strong, especially around the backpack straps since these carry most of the weight of the pack.
Comfort & Fit
Most daypacks have added a few features to increase their comfort. This includes padding on the backpanel and the backpack straps. These areas should also be ventilated to keep you cooler when hiking on a hot day.
The fit also needs to be perfect, or you won't be comfortable wearing your daypack. If there are multiple sizes, measure the length of your torso to find the right fit. If not, make sure the backpack straps are at least adjustable, so you can sit the pack properly on your back.
Suspension, Straps & Handles
A daypack won't have the same heavy-duty suspension as larger backpacks for trekking or climbing, but they still need something in this area.
Most The North Face backpacks, including the three we've reviewed here, will have a foam or mesh backpanel over a semi-rigid frame. This gives you some structure and comfort at the same time.
The backpack straps should also be padded, ventilated, and adjustable. Some of them are also ergonomic for a more comfortable fit, but this isn't always the case.
A decent daypack should also include a sternum strap and a waist strap. These should also be adjustable so you can fit your daypack properly on your back.
Some daypacks also include some type of carry handle. These are usually found on the top of the backpack, but some models may also add one on the side as well.
Storage & Organization
Organization is a must in any type of bag to make it easier to find what you're looking for. Along with a decently sized main compartment, a smaller front one is handy for your smaller items.
A pocket on the exterior of the lid is great for those little items you want to keep close at hand. Side pockets are perfect for water bottles.
If you prefer to keep your devices with you, laptop and tablet sleeves are a must. Make sure they are padded, though, or your expensive items may not make it through the whole trip.
Many daypacks also have organizational areas for little items like phones, cords, pens, notebooks, and even credit cards and documents. Before you buy your next daypack, decide just what you need to carry with you so you know what type of pockets you'll require.
Special Features
There are a few extra features you can look for to ensure you're getting the best budget North Face backpack you can.
Compression straps help balance out the load and make it a bit smaller. Outer bungee straps are good for a bit of extra storage. Gear loops or daisy chains let you hang extra gear as well.
Safety features like a whistle, bike reflector loops, or reflective logos are handy if you are out at night or get separated from your party.
Though these aren't found on all daypacks, hydration reservoir pockets and ports are great for long, thirsty days on the trail.
Bottom Line: The North Face Recon vs Borealis vs Jester Backpack: Which is the Best Daypack?
A daypack is ultra versatile, it can be used for almost anything, from hikes and camping trips to work and school. But you need to get a good one that lasts or you're just wasting your money.
The North Face Recon vs Borealis vs Jester backpack reviews we've done here have compared these three models, showing off their benefits and their flaws. But if you want the best North Face backpack, one model sits may sit on top of the list for your needs.
The North Face Jester backpack is the cheapest and lightest of the three, but it lacks some of the storage space the other two give you. It also has the least amount of colors to choose from and is made of less durable materials. Though it has a great low price, it isn't the best of the three.
The North Face Recon and the Borealis packs are quite similar in a variety of ways. They use the same materials, suspension, and straps, plus have identical storage areas. They both also use external compression straps.
But though the Borealis is a bit thinner, has more colors to choose from, and is a bit cheaper, the Recon oversteps it for a few reasons. First, though it has a larger capacity, it is lighter in weight.
The women's model also doesn't decrease the storage capacity even though it is a bit smaller than the men's version.
The Recon also has a kid's model available, so you can match the daypacks for the whole family.